Last week, I chose three books that I said I was going to read during the week, one of them being a book I borrowed from a friend. The books were The Lovely Bones, That Summer, and Shadowland.
The book that was finished this week (last night really): Shadowland (Mediator #1) by Meg Cabot.
The books left behind: The Lovely Bones and That Summer
Now I can finally return a book to my friend that was actually completed.
I guess the reason why I finished that book and not the others was because it had finally picked up on the pacing and the action, whereas I knew one would possibly bore me and the other was a total mystery. Plus, work got in the way as usual, cutting into my reading time.
The enthusiasm for two of the books were not there, and I have a feeling it isn't going to appear anytime soon. So I'm going to put The Lovely Bones and That Summer on the sidelines and come up with a new book roster.
Next round of books are:
Daughter of Smoke and Bone by Laini Taylor
Around the world, black handprints are appearing on doorways, scorched there by winged strangers who have crept through a slit in the sky.
In a dark and dusty shop, a devil's supply of human teeth grows dangerously low.
And in the tangled lanes of Prague, a young art student is about to be caught up in a brutal otherwordly war.
Meet Karou. She fills her sketchbooks with monsters that may or may not be real, she's prone to disappearing on mysterious "errands", she speaks many languages – not all of them human – and her bright blue hair actually grows out of her head that color. Who is she? That is the question that haunts her, and she's about to find out.
When beautiful, haunted Akiva fixes fiery eyes on her in an alley in Marrakesh, the result is blood and starlight, secrets unveiled, and a star-crossed love whose roots drink deep of a violent past. But will Karou live to regret learning the truth about herself? (from Goodreads)
I won this in a giveaway on Tumblr and have been needing to read it. I've heard such great things about it, I hope it doesn't disappoint.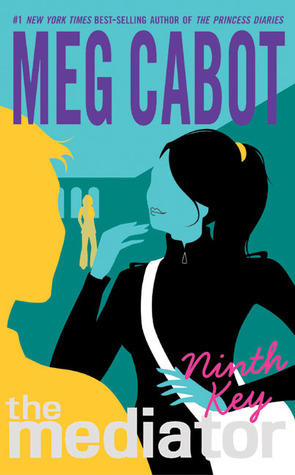 Ninth Key (The Mediator #2) by Meg Cabot
Everything is going great for Suze. Her new life in California is a whirlwind of parties and excellent hair days. Tad Beaumont, the hottest boy in town, has even asked Suze out on her very first date. Suze is so excited that she's willing to ignore her misgivings about Tad… particularly the fact that he's not Jesse, whose ghostly status–not to mention apparent disinterest in her–make him unattainable.
What Suze can't ignore, however, is the ghost of a murdered woman whose death seems directly connected to dark secrets hidden in none other than Tad Beaumont's past. (from Goodreads)
Obviously, I need to continue the series for my friend. So why wouldn't I go through the series in order and move to the next book?
The Pear of the Soul of the World (Darkangel #3)
The spellbinding conclusion to the Darkangel Trilogy!
Aeriel has rescued the winged vampyre Irrylath, gathered a loyal band of allies, and awakened the guardian protectors of the world. Now, armed with a magical pearl imbued with all the sorcery and wisdom of the ancient goddess Ravenna, Aeriel must finally come face-to-face with the evil White Witch. Aided by the former darkangel and their army of good, can Aeriel unlock the power of the pearl and awaken her true destiny?
WILL AERIEL DISCOVER THE MYSTERY OF THE PEARL IN TIME TO SAVE THE WORLD? (from Goodreads)
A trilogy I started in high school that I am finally getting the chance to finish. It's a light read and shouldn't be that hard to get through.
I wonder which ones I'll finish, since I haven't started a single one before.
(all images were found on Goodreads. All copyright belongs to their respective owners)